The companion literary and video tributes to Rodger Reese that follow were first posted on Legacies Unlimited in December 2017. They are being presented a second time this holiday season to honor the "Dickens of a brother-in-law" who passed away in September 2018. Thank you, Rodger, for keeping Christmas in your heart all year long. You will live on in ours forever.
A Dickens of a brother-in-law




CLICK HERE

for

PDF

version

BY ANN HAUPRICH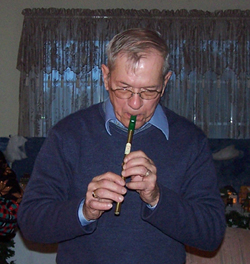 When I first began telling editorial associates I'd acquired "a Dickens of a brother-in-law" after my sister Charlene tied the knot in 2007, some wrongly assumed I had fingered her beloved Rodger as a Fagin or at the very least an Artful Dodger.

While his first name does rhyme with the latter, earning him the affectionate nickname Rodger Dodger, the truth is that Rodger is more of a Pip who shares nothing more in common with the Dodger of Oliver Twist than a mischievous grin. Like Pip (short for Phillip Pirrip in Great Expectations), our family's Rodger Dodger is a living, breathing creation of brilliant complexity.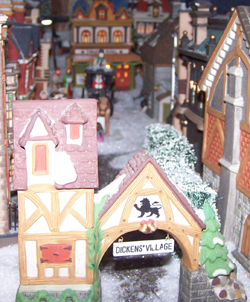 The truth (which is stranger than fiction) is that Rodger Dodger is "a Dickens of a brother-in-law" because each December, the former US Marine, Rotary District Governor and furniture store proprietor, brings scenes reminiscent of a Dickens' Christmas village to life in his upstate New York home.

This is accomplished via a magnificently displayed collection of miniature shops, taverns, churches and other landmarks one would associate with A Christmas Carol. Victorian streetlights illuminate figurines in period costume engaged in a diversity of seasonal activities.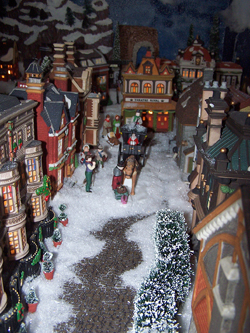 So lifelike are the characters one can almost hear the carolers singing. Those lacking such imagination are aided by the traditional carols Rodger pipes into the room by way of modern electronic miracles.

Something tells me the first words out of the mouths of Tiny Tim, his father Bob Cratchitt and Post-Ghost Ebeneezer Scrooge upon seeing the images that follow would be a jolly good chorus of "Merry Christmas! And God bless us every one."

And God bless every one who has been fortunate enough over the decades -- long before Rodger Dodger won my sister's heart -- to enjoy the magic of Christmas Past through his snow-covered Dickens- era village and Christmas Present through the gift of his uplifting (and occasionally mischievous) presence. I'm looking forward to many a Christmas Future in settings that include this Dickens of a brother-in-law who is truly a character, in the finest sense of the word.
More images from Rodger's Christmas Village can be viewed when clicking on the numbered text links below.
1.) Miniature Christmas Village - Dickens' gateway
2.) Some Village homes and shoppes reminiscent of a bygone era
3.) A church and peaceful miniature holiday village scene
4.) Scrooge and Marley's office visible behind the church
5.) An old-time Salvation Army band can be seen playing in this scene
6.) Another street scene like those in Dickens' story A Christmas Carol
7.) A little carriage ride through Dickens' Village
8.) The Old Curiosity Shoppe and a townsperson thatching his roof
9.) The Hose & Ladder Co. and the General Store
10.) The marina end of Rodger's Christmas village, complete with a little ship
The video footage of Rodger's Christmas village that appears below as well as the images appearing on this web page were shot by Rodger's sister-in-law, Mary Hauprich Reilly, in 2014. Most images in the PDF version of this story were shot in 2017 by Ann Hauprich, with the exception of the photo spread that accompanies Ann's story on the opening facing pages of the PDF, which Mary also snapped in 2014.