Legacies Unlimited is committed to preserving the past and present for future generations. In addition to sharing memories that might otherwise be forever lost, we document "history in the making" by celebrating contemporary lives that add strong and vibrant threads to the rich tapestry of our nation's heritage.
A flight back into Air Mail history in Ballston Spa, NY
(Expanded PDF version)
By Ann Hauprich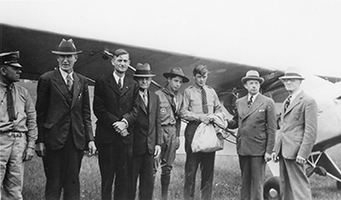 Although United States Air Mail was formally established as a new service by the United States Post Office in May 1918, the first such delivery out of Ballston Spa didn't take place until 20 years later. On May 19, 1938, Boy Scout Maurice "Christopher" Morley, youngest son of Ballston Spa Postmaster Edward J. Morley, was an eyewitness to United States postal history when he was present at the village's first Air Mail delivery. Chris, who was 16, would decades later recall that "a bagful of special Air Mail flew out of Ballston Spa from just outside the village limits on County Farm Road." Included in the bag, he said, were a few envelopes with special postage stamps and a message imprinted on the fronts proclaiming FIRST FLIGHT AIR MAIL BALLSTON SPA, NY. The envelopes additionally referenced BALLSTON SPA, NY NATIONAL AIR MAIL WEEK MAY 15-21, 1938. (To learn more, visit
USPS.com
-- and
CLICK HERE
to enjoy a
greatly expanded PDF version this Home Page
presentation which includes fun bonus features about young Chris Morley's personal Pony Express, the long ago winter's day when the lad trekked nearly 15 miles on webbed snow shoes to deliver a telegram . . . and much more.)
Click on images below for enlarged views with captions.
DELIVERING AIR MAIL TODAY (above right): Legacies Unlimited founder Ann Hauprich, who snapped this photo of Tony Sgambelluri, is grateful for her longtime carrier's delivery of Air Mail from foreign lands and Priority Mail from across the USA to her home-office in Ballston Spa, NY. The ability of Tony and others based at the village's Post Office to combine hometown hospitality with corporate efficiency is something Hauprich believes would have been a source of pride for Postmaster Edward Morley, who presided over the community's first Air Mail delivery 80 years ago. (Please CLICK HERE to learn more about Mornings with Morley, a celebration of the legacy of Maurice "Christopher" Morley, whose youthful memories included joining his father as an eye-witness to postal history on May 19, 1938.)
"Neither snow nor rain nor heat nor gloom of night stays these couriers from the swift completion of their appointed rounds."

While by no means the official creed or motto of the United States Postal Service, this passage was one Chris Morley often quoted in conjunction with letter carriers in the village. Another favorite saying -- "The mail must go through" -- was later recorded as a Disney song for children.