Happy Holidays from Legacies Unlimited in Ballston Spa!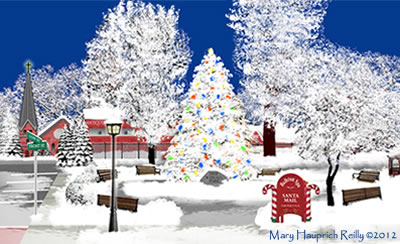 Warm memories of Christmas tree lightings in Wiswall Park, holiday excursions to Brookside Museum and midnight Masses at St. Mary's Church inspired Mary Hauprich Reilly to create some of the snow-covered scenes of Ballston Spa that now grace a line of greeting cards and mugs. CLICK HERE to read more!





Ballston Spa, NY Post Office delivers the best of
hometown hospitality and corporate efficiency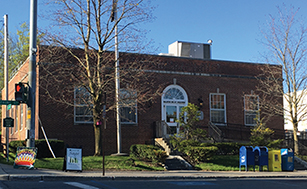 If Ken Burns ever produces a PBS documentary about the history of the United States Postal Service, I hope he'll consider sending a crew to One Front Street, Ballston Spa, NY 12020. Inside the red brick landmark whose past patrons included Andy Rooney's ancestors and upon whose front steps masses huddled on a chilly long ago evening in hopes of catching glimpses of Barbra Streisand and Robert Redford during the filming of The Way We Were, Burns and company would discover a setting where the hometown hospitality of yesteryear seamlessly merges with the corporate efficiency of The Digital Age. CLICK HERE to read more!





Remembering when Santa came to town on a train!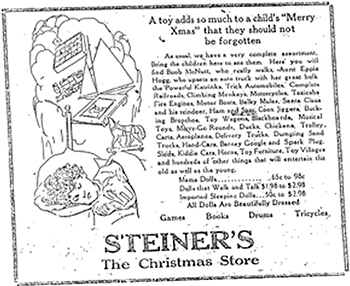 Ho! Ho! Ho! There was a time when Steiner's Department Store met the needs of legions of holiday shoppers in a small upstate New York community -- including arranging for Jolly Old St. Nick to ride the rails to spread joy to village children.

CLICK HERE to enjoy a feature that also includes a tribute to the great-granddaughter of Steiner's founder Jacob Steiner.






A Dickens of a brother-in-law kept
Christmas in his heart all year long!
When I first began telling editorial associates I'd acquired "a Dickens of a brother-in-law" after my sister Charlene tied the knot in 2007, some wrongly assumed I had fingered her beloved Rodger as a Fagin or at the very least an Artful Dodger.

While his first name does rhyme with the latter, earning him the affectionate nickname Rodger Dodger, the truth is that Rodger is more of a Pip who shares nothing more in common with the Dodger of Oliver Twist than a mischievous grin.

CLICK HERE to read the full literary tribute to

Rodger Reese

with accompanying video

that were first posted on Legacies Unlimited in December 2017. They are being presented a second time this holiday season to honor the "Dickens of a brother-in-law" who passed away in September 2018.





Delicious holiday memories reveal
why we still think you're swell!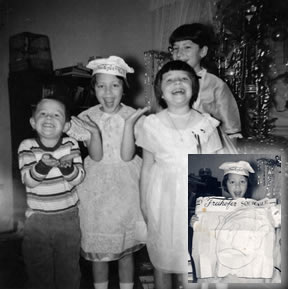 Please CLICK HERE to see why Hauprich siblings Frank, Ann, Pamela and Charlene were beaming as December 1959 was "drawing" to a close. The "squiggle" in birthday girl Ann's hands (inset) provides a clue!

And CLICK HERE to read a related blast from Saratoga County's publishing past in our expansive Magazine Memories section.