Legacies Unlimited is committed to preserving the past and present for future generations. In addition to sharing memories that might otherwise be forever lost, we document "history in the making" by celebrating contemporary lives that add strong and vibrant threads to the rich tapestry of our nation's heritage.
Lessons on living life to the fullest
A tribute to educators Albert and Helen Eisenhauer


CLICK HERE

for tribute in PDF format.



(File size of PDF is over 17 MB, therefore may take a few minutes to load.)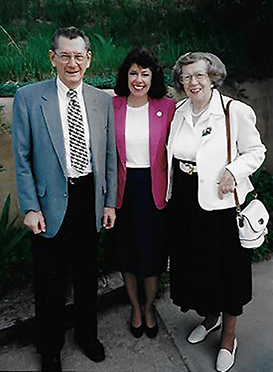 By Ann Hauprich
I was a high school sophomore when my parents moved their 10 children -- then ranging in age from five to 19 -- from the outskirts of Albany, NY to the foothills of the Adirondacks during the Thanksgiving school break in 1968.
Assured by my closest friends that we'd stay in touch, I embraced the transition from a modest Eisenhower-era abode in a modern suburb just off the busy Troy-Schenectady Road in Latham to a splendid Victorian-era residence on Church Avenue in the historic Village of Ballston Spa.
How I welcomed the prospect of being able to walk to and from school rather than riding buses as I had done all of my life! At last I'd be able to join clubs and participate in extracurricular activities knowing that my own two feet could get me there and back.
My excitement about starting classes at my new school only heightened after learning that Al and Helen Eisenhauer, two of
my mother's
favorite teaching associates at the
Malta Avenue Elementary School
, had invited
our family of 12
to dine with them at
Ecobelli's, a gourmet Italian-American restaurant
.
Told Mr. Eisenhauer knew just about every instructor in the district, I looked forward to quizzing him over pasta about those educators I would surely soon encounter at
Ballston Spa High
. Mr. E's anecdotes about my future art teacher, Dick Sather, whom I was cautioned might remove his artificial eye and roll it across a table in the classroom, are among those that remain seared in my memory. The subsequent discovery that Mrs. Eisenhauer's past had included selling Girl Scout cookies to Thomas Edison also made a lasting impression.
A local history book to be published in 2018 to coincide with the 50th anniversary of my family's settlement in Ballston Spa, will showcase a special section commemorating the long and purpose-filled lives of these extraordinary educators for whom the whole world was a classroom. PLEASE
CLICK HERE
to preview sample pages designed by Mary Hauprich Reilly with sincere gratitude to Dagne Samuelson Sollid for sharing the precious photos and captivating captions.
(Note: File size of PDF is over 17 MB, therefore may take a few minutes to load.)